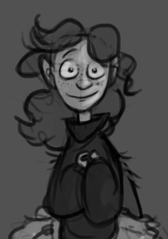 Fern is 14 years old and is currently in training to be a Tooth Fairy. As a pinkwing with a great deal of enthusiasm, there is much hope that she will be very well suited to Tooth Retrieval
A dedicated Hurley player, Fern is considered by her instructor, Duke, to be one of the best players in her tiend.
Fern is a known Raging Kelpies fan (see: Hurley for a full list of teams)
Her progress is being closely monitored by Fairy as certain doubts have been expressed about the quality of her instruction in the art of Tooth Retrieval. This education is being provided to her by Tracy (see: Tracy, Tooth Fairy Dept. ).
Fern's blog can be found here .